【COUGAR DUALBLADER Fastest review in Japan】Both regular and gaming mice can be customized!
2022.06.04更新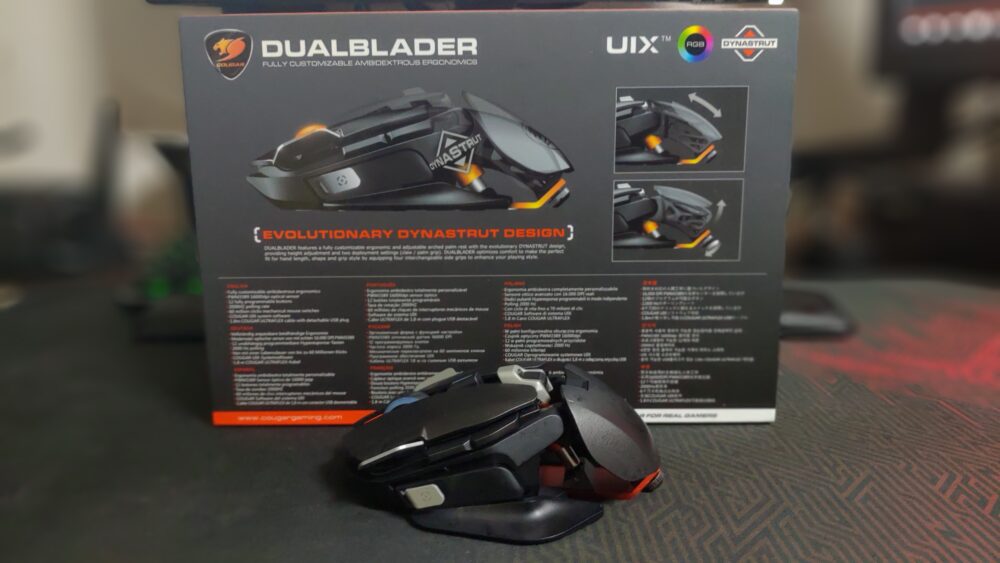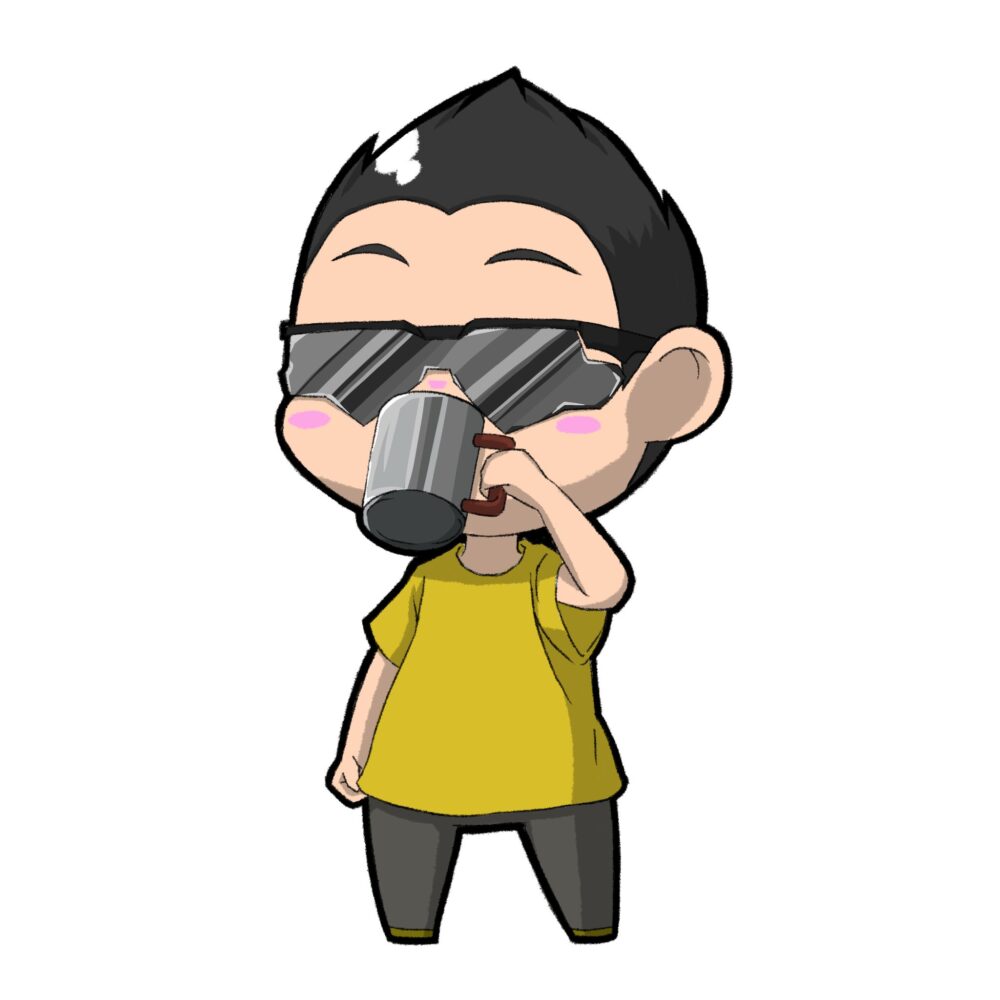 レイトン
Welcome to L′s Info Blog.
I am Layton, the blog manager.
This time, I will be talking about the COUGAR DUALBLADER, which I have really wanted since its product launch.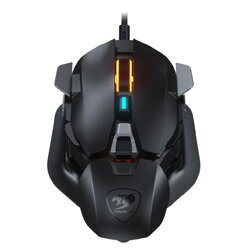 ¥16,335
(2023/01/18 17:20時点 | 楽天市場調べ)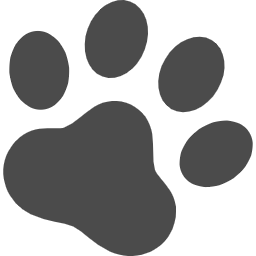 ポチップ
n't wait for its release in Japan, so I imported it from Hong Kong.
But, On August 24, the day it arrived, there was an announcement that it would be released in Japan on August 30.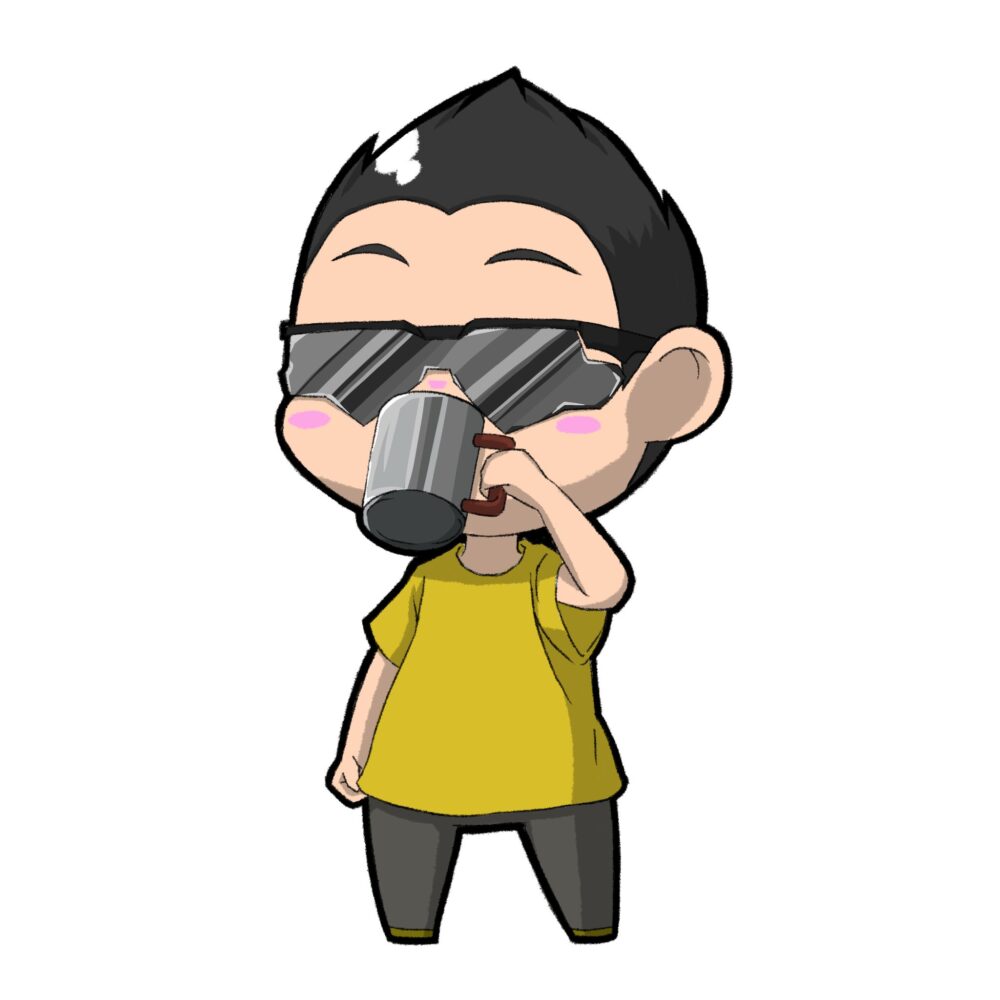 レイトン
We will explain this as a review of the actual device a little early, as it is thought to have the same specifications and chassis as the version released in Japan.
We expect that the specifications will probably be the same in Europe and the U.S., but please consider that some details may differ.
Recommended users
Want to see a review of the COUGAR DUALBLADER before it goes on sale.
Those who find customizability appealing.
Those who work on one PC for both work and personal use.
Japanese version is also available. If you prefer Japanese, please click the link below.
We have also prepared a review article of the COUGAR 700M EVO, the predecessor of the COUGAR DUALBLADER introduced in this issue.
If you are interested in it, please click here.
COUGAR 700M EVO Review : English Version is Coming Soon…
COUGAR DUALBLADER's Basic Information
Manufacturer

COUGAR

Resolution

16,000 DPI

Polling Rate

2000Hz

Weight (without cable)

99g-107g

Programmable Buttons

12 ※Four of them are additional buttons.

Dimension (LxWxH)

Min : 120 x 71 x 39 (mm) / 4.72 x 2.8 x 1.53 (in)
Max : 120 x 88 x 45 (mm) / 4.72 x 3.5 x 1.8 (in)

Interface

Detachable USB plug

Official site introduction page

View Details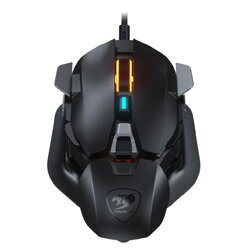 ¥16,335
(2023/01/18 17:20時点 | 楽天市場調べ)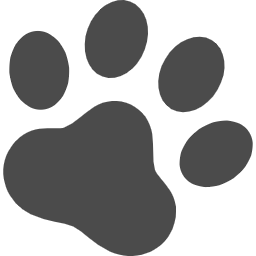 ポチップ
Conclusion : Is this mouse recommended?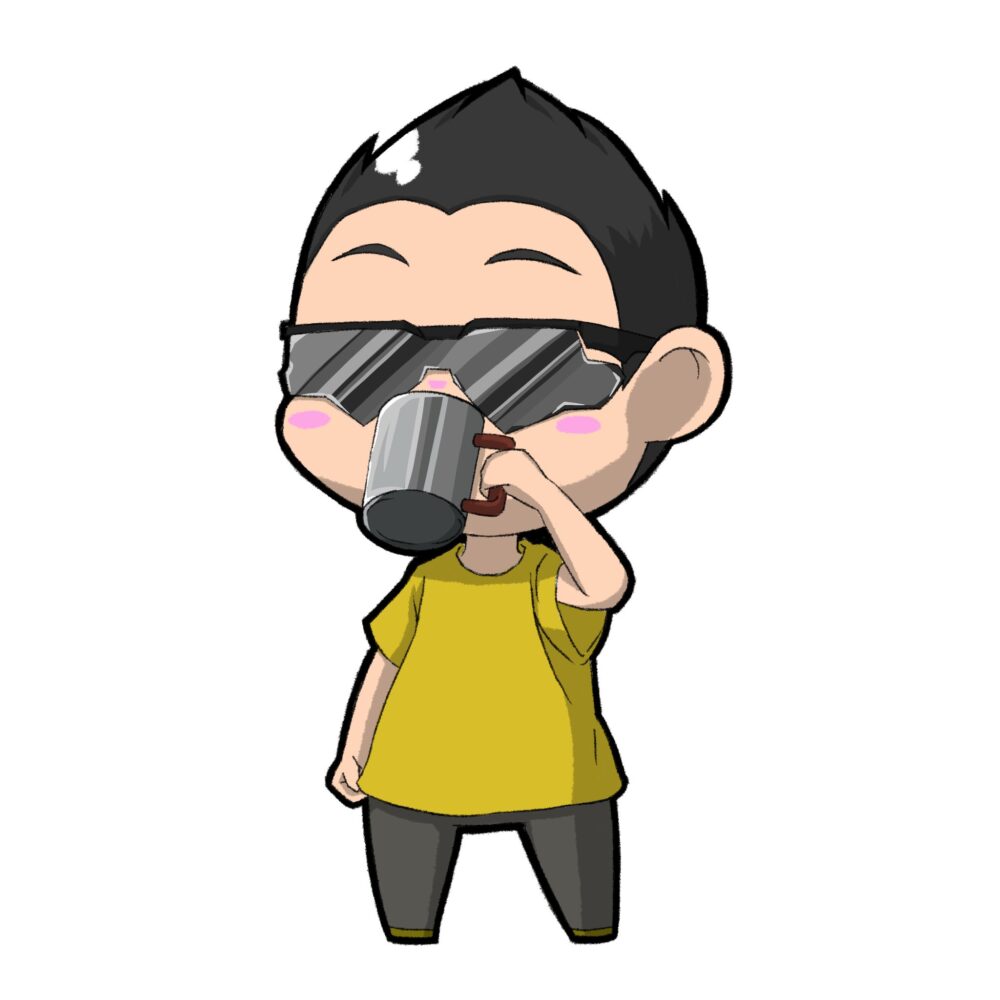 レイトン
I would definitely recommend it to those who enjoy the customizability of buttons and grips that ordinary mice do not have.
Good side grip and additional buttons are highly customizable.

With a 3D printer, you can achieve even more originality and customization.
It's not so attractive for those who don't need to customize a mouse in the first place

.

Obviously not suitable for those who hate too many buttons!
This product is primarily designed for customization of the side grip and additional buttons, and a 3D printer can be used to create more personalized parts in addition to the included parts.
For those who love customization, this is a gem that shows new possibilities!
However, I am not sure it will be very attractive to those who do not customize.
So,in detail, what is the attraction?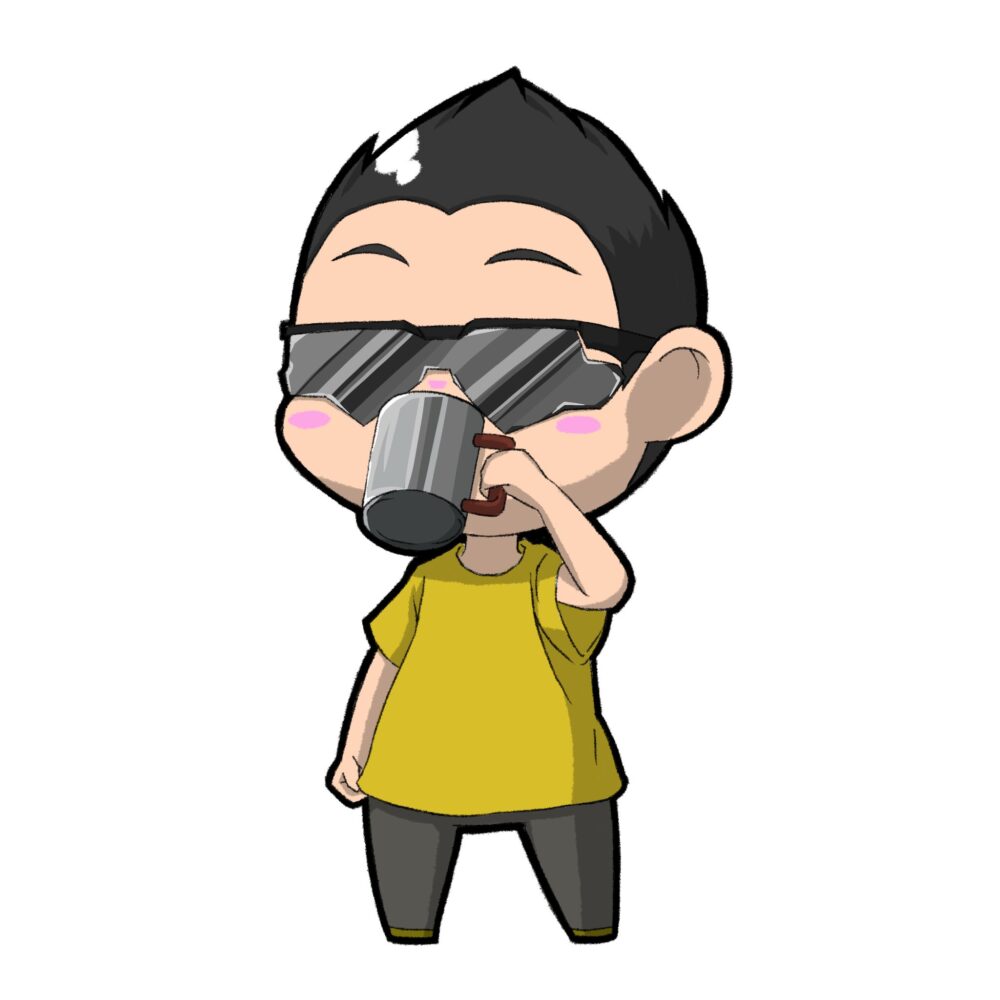 レイトン
Don't worry, I will explain in detail later.
Appearance of COUGAR DUALBLADER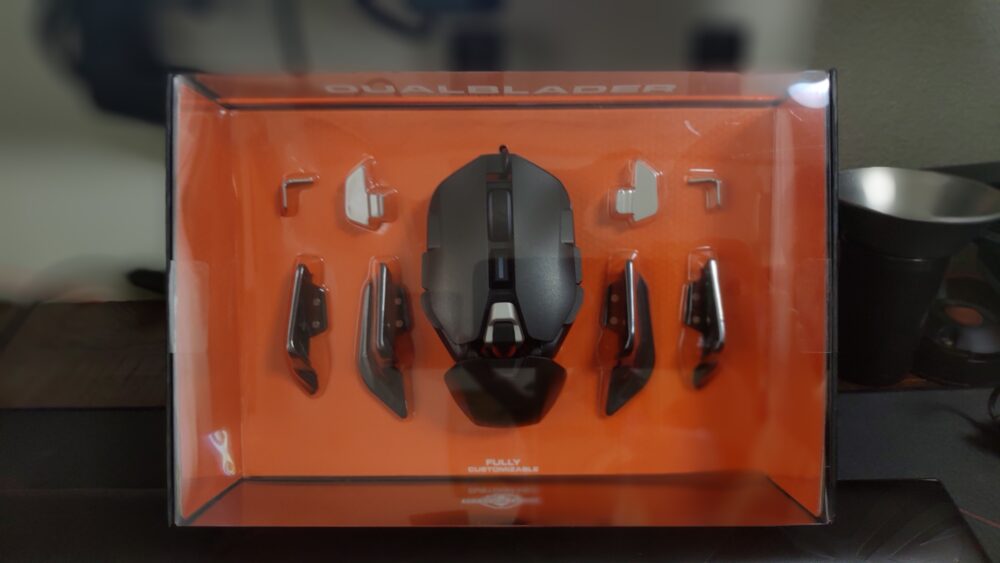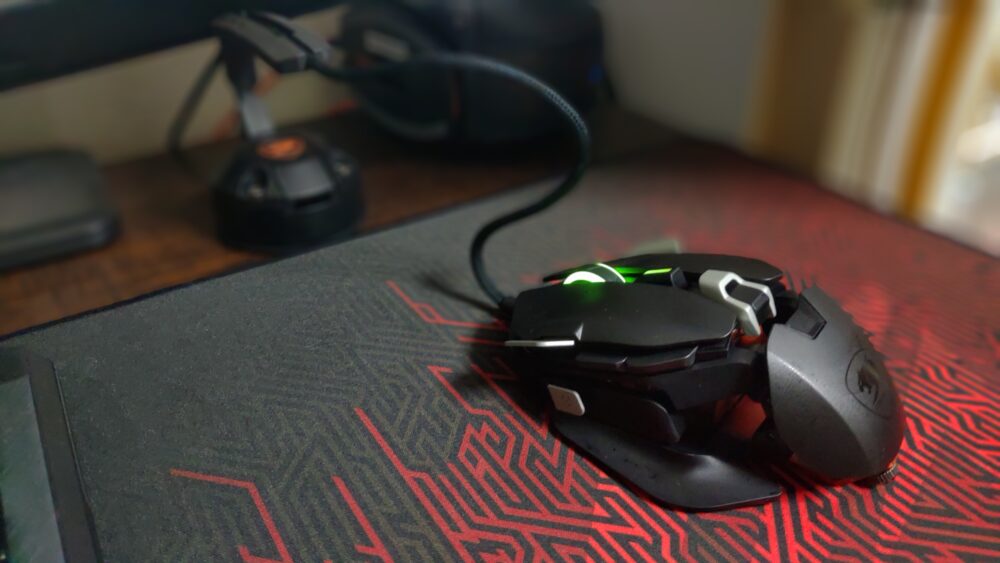 The COUGAR DUALBLADER continues the hybrid aluminum-plastic design of the previous COUGAR 700M EVO, additional buttons looks like all made of aluminum.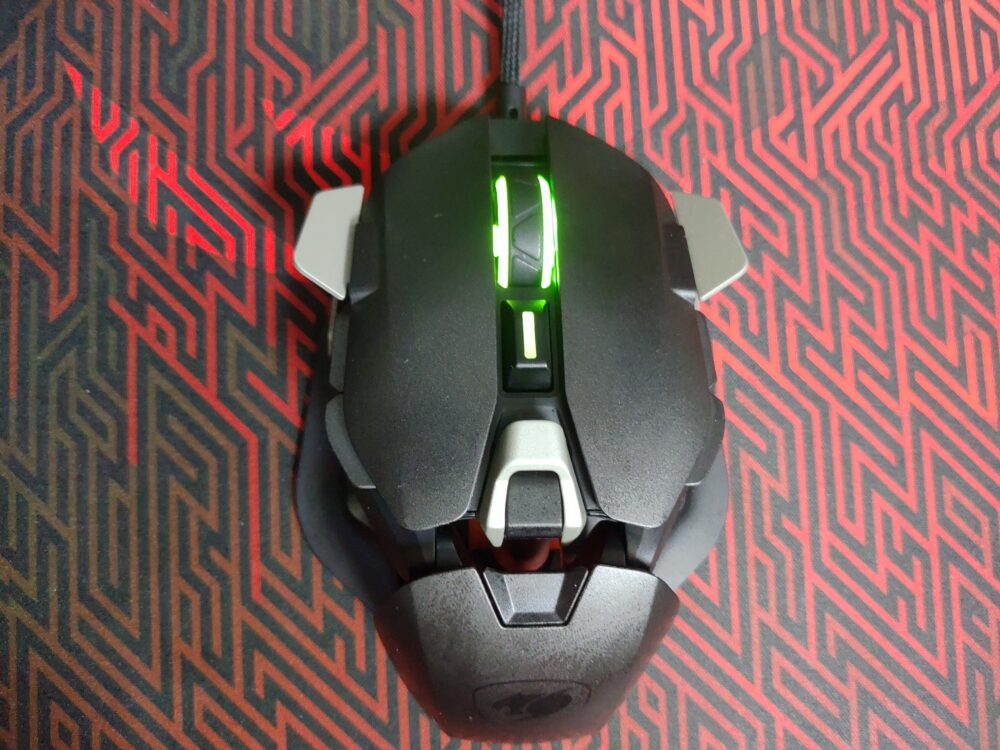 The lighting areas are the wheel and the DPI button, As with previous models, and the lighting color can be changed by using the dedicated software "COUGARs UIX™-System".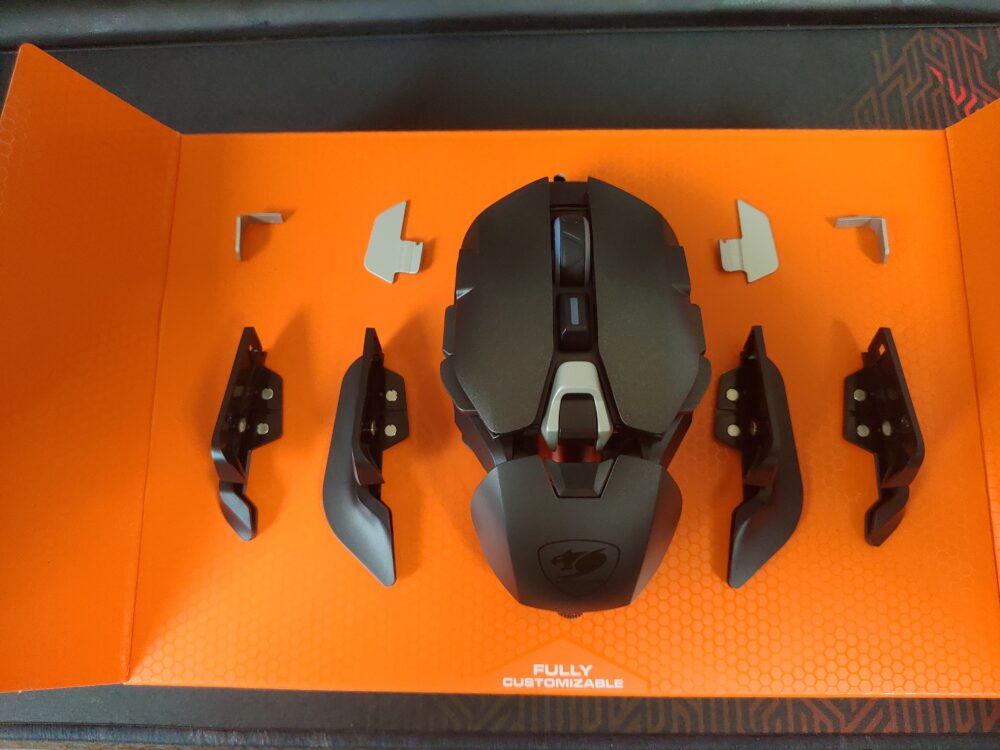 The best-selling feature of this mouse is the additional buttons, of which four can be added in total.
The mouse can be placed on the left side as in the previous model, or newly placed on the right side.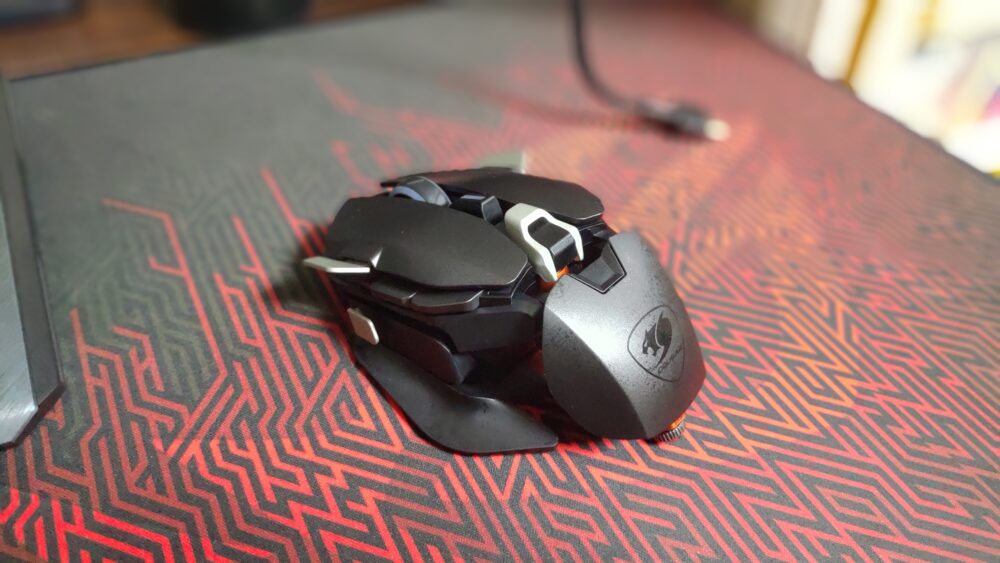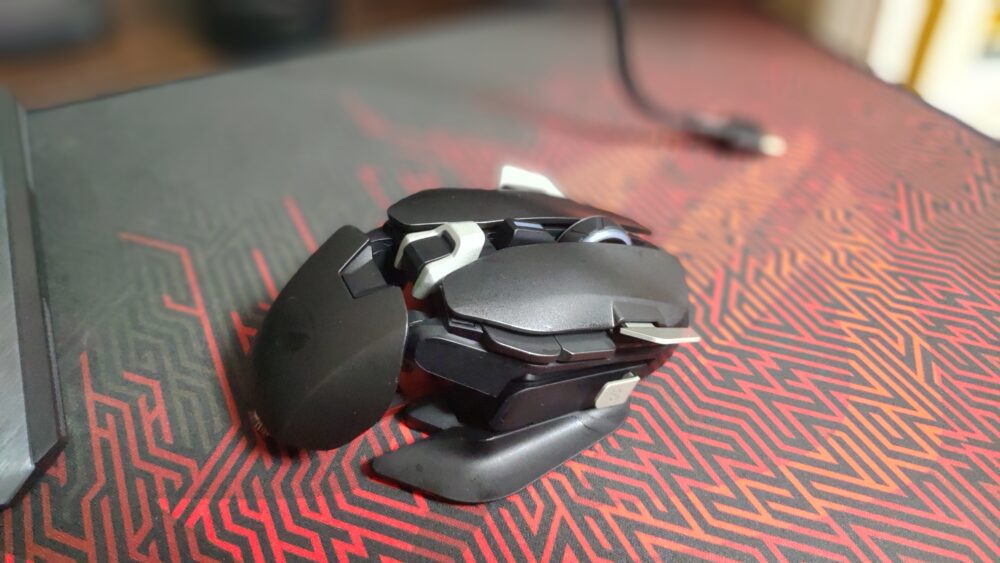 And what has evolved from the previous work is the option of not using any additional buttons.
This also allows for an "infinitely more normal mouse configuration", which was not possible in the previous work.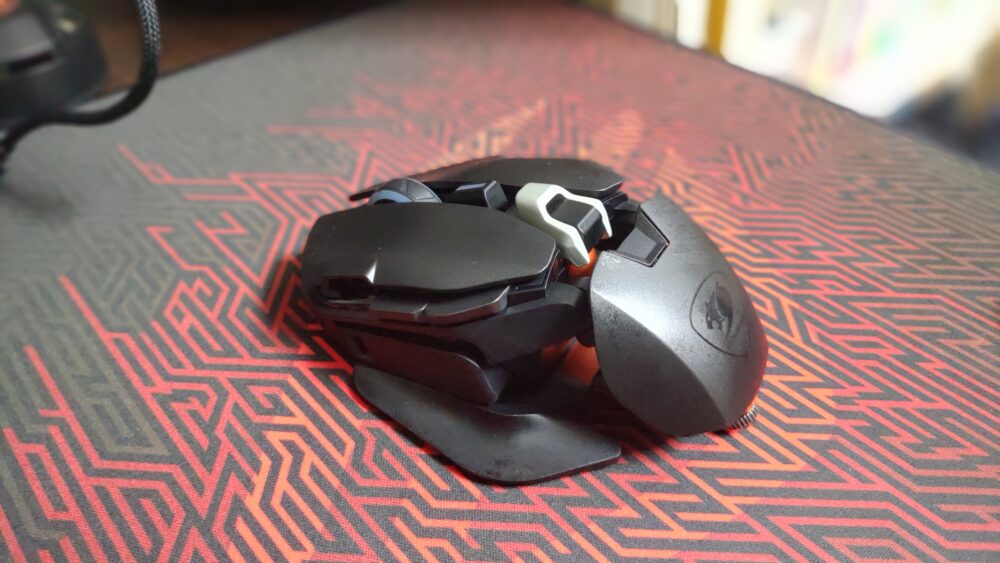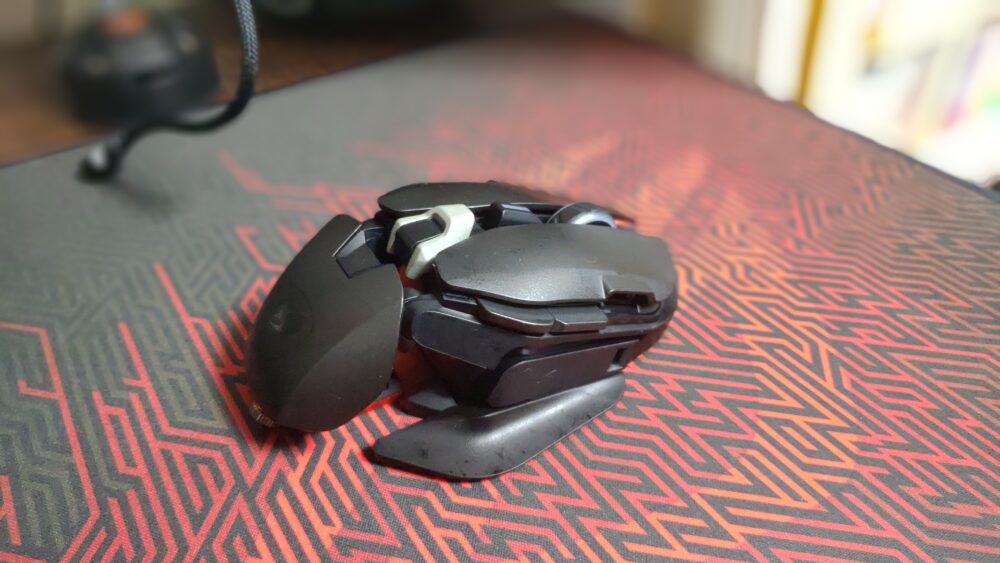 For my part, I prefer a gaming mouse configuration that is designed more for gaming, but I believe that I can recommend this style to a more general audience than the previous style.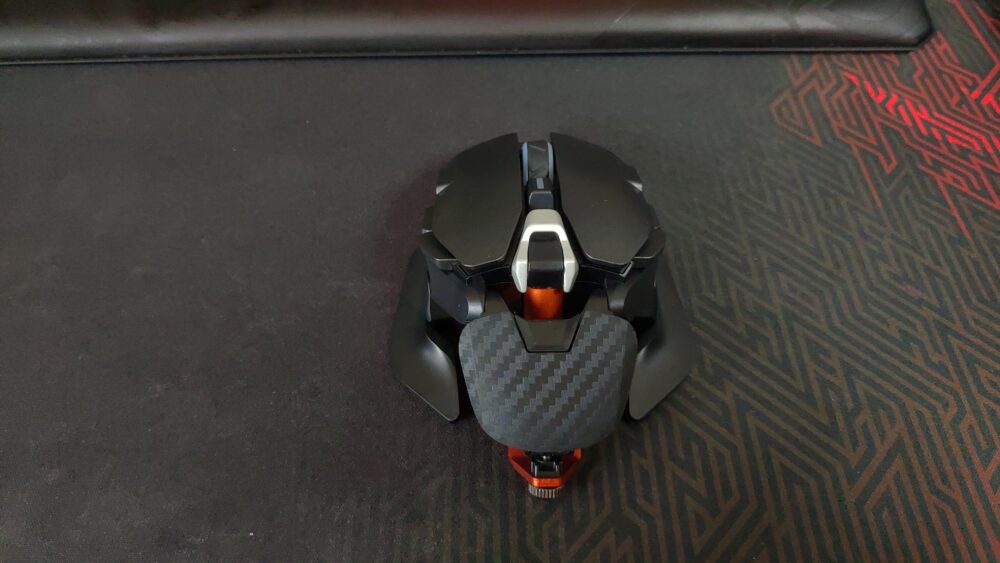 The size of the palm rest and side grips have also been improved, and the size of the side grips can be changed.
In the previous 700M EVO, the grip was adjustable only with the palm rest, so it can be said that this improvement allows for more fine-tuning of the size.
In the COUGAR DUALBLADER, the cable is a detachable wired connection, although the cable is not shown in the photos so far.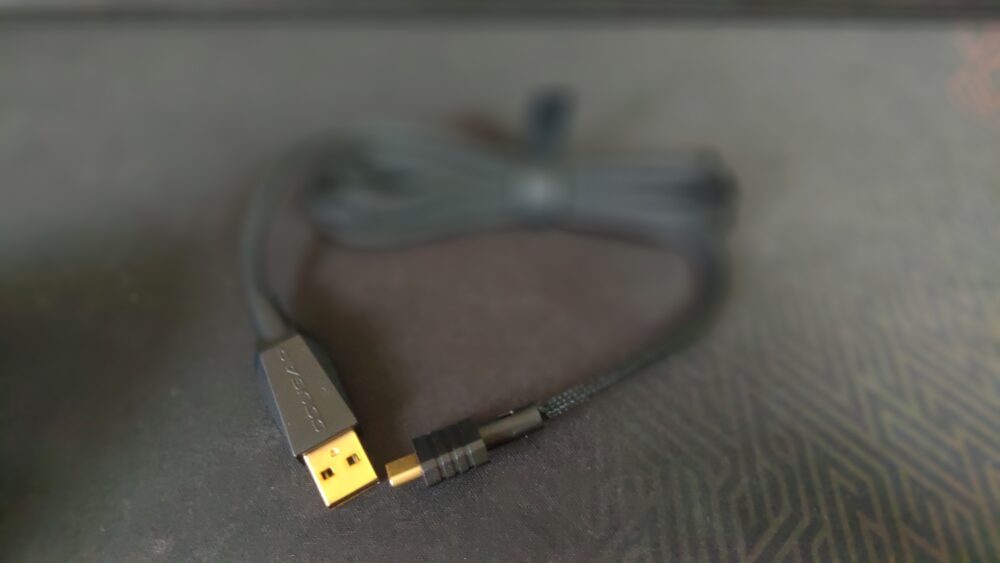 The cable type will be a general USB Type-A to USB Type-C cable.
The Type-C part in the photo has a slightly special cover, but it has a shape that can be used both as a dedicated cable and as a cable for charging a smartphone.
※I tried to see if I could connect with commercially available USB Type-C, but I was able to do so without any particular problem.
Comparison with the previous COUGAR 700M
E
V
O
Product Name




COUGAR DUALBLADER




COUGAR 700M EVO

Resolution

16,000 DPI

16,000 DPI

Polling Rate

125/250/500/1000/2000Hz

125/250/500/1000/2000Hz

Weight

99g-107g (without cable)

When weights are not added:105g
When weights are added:121g

Additional weight

None

4g × 4pcs

Number of buttons

12 ※ 4 additional buttons

8

Dimension (LxWxH)

Min : 120 x 71 x 39 (mm) / 4.72 x 2.8 x 1.53 (in)
Max : 120 x 88 x 45 (mm) / 4.72 x 3.5 x 1.8 (in)

127(L) x 83(W) x 38(H) mm / 5.00(L) X 3.27(W) X 1.50(H) in

Interface

Detachable USB plug

Golden-plated USB plug

Official site introduction page View Details

View Details

View Details
Advantages over previous work

・Compared to the previous model, the new model is lighter and easier to handle.
・Interchangeable side grips on the left and right sides for a better fit in the hand.
・Height adjustability supports changing the way the mouse is held.

Disadvantages compared to previous work

・The elimination of additional weights prevents fine weight adjustment of the mouse.
・Side grips are now detachable, so there is a possibility of damage or loss.
・The cable is detachable, so if the USB Type-C connection port is damaged or defaced, it will be impossible to use.
The table up summarizes the differences in basic information.
Regarding the differences other than the table, there are two differences as follows.
1. Shape change of side grips
2. Mouse body height adjustment
Regarding the side grip in 1., on the 700M EVO, the right side grip is curved inward in a nearly straight style, but on the DUALBLADER, the right side grip is wider so that the little finger can be placed on it.
※It can be changed to the previous straight type by replacing the side grips.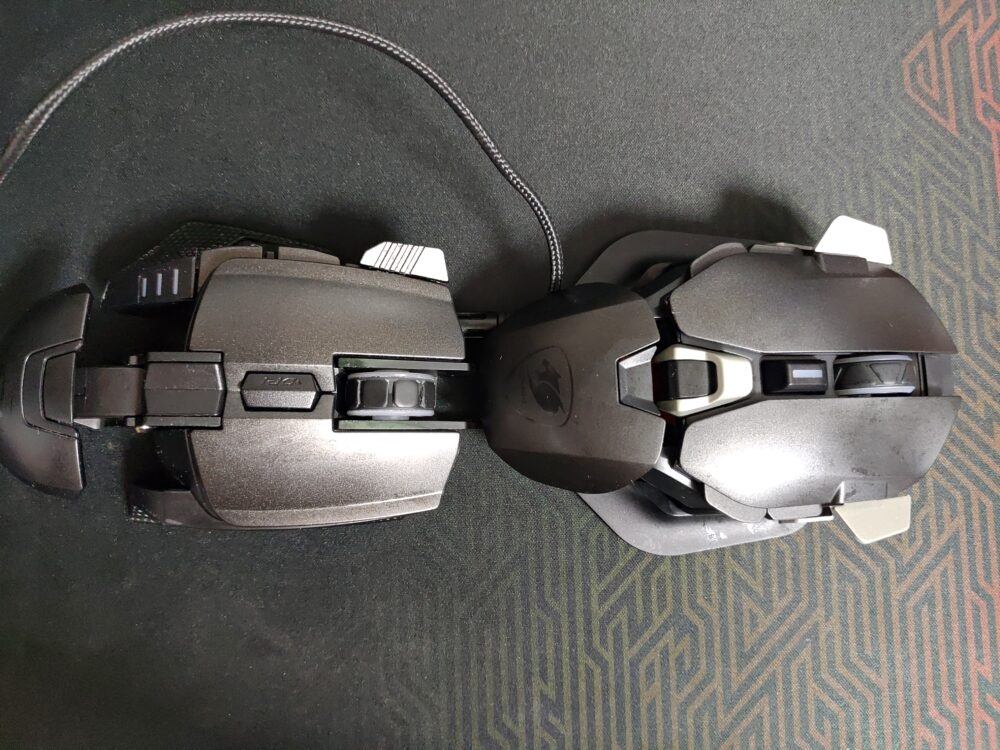 As for the height adjustment in 2., the 700M EVO had a shape similar to a claw style to some extent, but the DUALBLADER has an adjustment function that allows the user to change between a claw style and a palm style.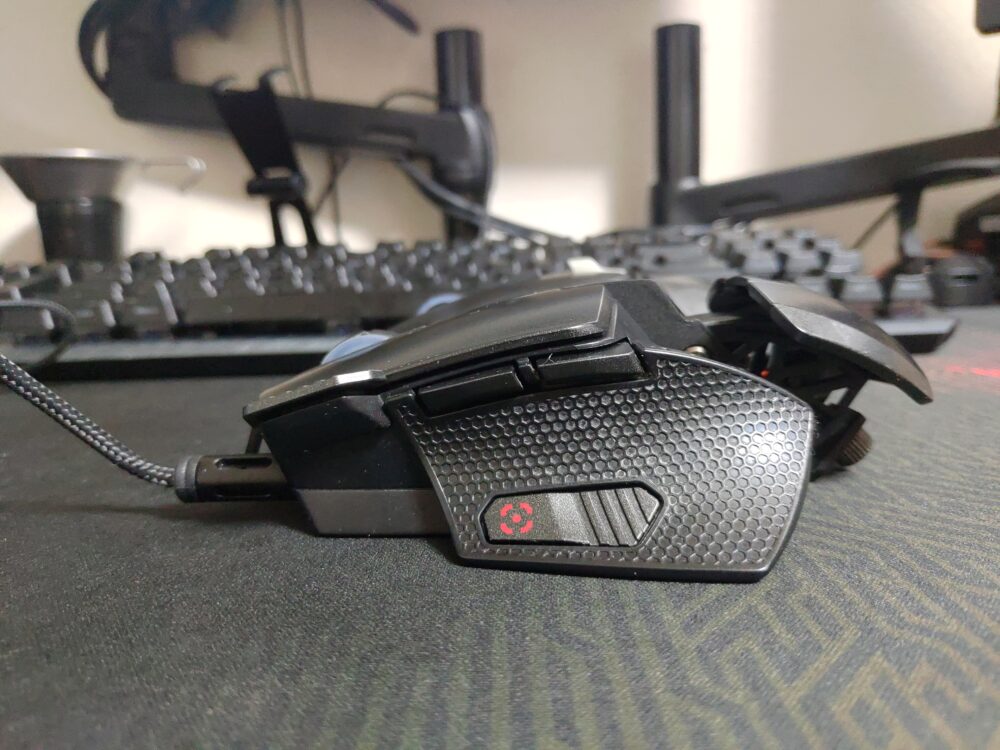 COUGAR DUALBLADER Usage Review
Overall Rating
1~5 star rating
Detailed evaluation
durability
At this time, we have not identified any problems with the entire unit creaking or making noise.
The aluminum frame of the mouse skeleton provides a high degree of rigidity when compared to other mice.
weight
Among gaming mice from various manufacturers, it is neither too heavy nor too light, and can be said to be in the middle of the weight range.
The 2021 trend is for lighter weight, so it deviates a bit from the trend, but it is not too heavy to be difficult to use.
feel of a material
The plastic part is silky and quite normal to the touch.
click feeling
The left and right clicks and left and right side buttons are firm.
The additional buttons are "left and right grip parts: fairly light clicking" and "left and right upper parts: normal clicking.
Sensor sensitivity
I do not feel any particular discomfort when using it.
This can vary depending on the mouse pad, but since calibration for each mouse pad can be performed with dedicated software, this is also not a problem.
Ease of macro setting
The dedicated software「COUGARs UIX™-System」makes it quite easy to set up.
As for macros, it is easy to create intended macros because you can record your own actions and put them into the settings.
connection method
As a gaming mouse, I think the fact that it is a wired system is a bit of a negative, while there are many wireless systems.
One good point, however, is that the cable can be separated, which is a modest but good improvement (

since the cable was fixed to the mouse in the previous COUGAR 700M EVO

).
Advantages

・Additional buttons are freely replaceable, so you can customize it to your liking.
・Rigidity is higher than other mice due to the use of an aluminum frame.
・Macro settings are easy to set up, so it can be itched in various situations.

Disadvantages

・A little heavy for the trend toward lightweight

.
・This product is wired, so it is troublesome for those who want to eliminate cables as much as possible.
・Special software is required to set macros, and macros cannot be saved on the device.
I would like to move on to a review of the use of the product, which is of interest to me.
In conclusion, I think the design is more in line with a wider range of users since the previous 700M EVO.
The ability to detach additional buttons allows the user to choose whether to use a regular or gaming mouse from the previous fixed button layout, which is a much appreciated feature.
As a matter of course, you generally buy a gaming mouse and a gaming keyboard to play games.
However, it is not uncommon to have a PC for work and a PC for playing games together.
Some people may "want to set up macros with minimal buttons" for work, but "need more buttons" when playing games.
This mouse, which can solve such problems, is a product that satisfies some niche demands.
As for durability, we don't think there are many elements that could break, except that the additional buttons are magnetically attachable.
I guess we will find out if the additional buttons, which are magnetic, are trustworthy after using them for the next few months or so.
Nevertheless, since the button itself is aluminum and uses magnets only for connection to the body, if no problems occur on the body side, doing something to the additional button side should not be a factor in breaking it.
COUGAR DUALBLADER Review Summary
n this article, we discussed the COUGAR DUALBLADER.
This mouse, which has evolved from the previous 700M EVO mouse, was a real hit with me, and I have been waiting for it ever since it was announced.
The trend in gaming mice these days is to reduce weight, and I think the COUGAR DUALBLADER is a good gaming mouse that is also lightweight and has expandability with the additional buttons.
The price was confirmed to be 13,200 yen on Amazon Japan for pre-order.
The release date in Japan appears to be August 30, 2021.
※Amazon America sells it for $79.50 as of April 29, 2022.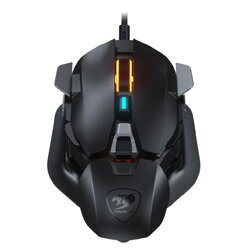 ¥16,335
(2023/01/18 17:20時点 | 楽天市場調べ)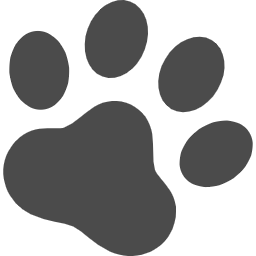 ポチップ
After August 30, review articles and review videos will be published by others, but if you have any questions or comments, such as "I would like to see more explanation of this part on Layton's blog!" or "I want to see what the details are like on the actual device!" If you have any requests, we would appreciate it if you could let us know in the comments section.
We would be happy to add it to the article or reply to your comment.
I hope this article has been helpful to someone. See you soon.